Wearing the logo of a particular brand signifies sophistication, success, and a certain status in society. These logos are, in one way, the outward marking of one's sartorial tribe, revealing hints about their personal style, value in luxury items and how affluent they are.
Logos hold the power of instant brand recognition, and particular logos have become a strong symbol of luxury and affluence over the past few decades to a century. When it comes to luxury fashion houses, their legacy is defined by their logos and the unique stories behind them. Here are some stories of the most iconic luxury fashion brand logos:
1. Chanel
The Chanel logo is known to be designed by Coco Chanel herself in 1925. It is also one logo that has been unchanged since its first design. Chanel's double Cs logo design is, on the one hand, rumoured to come from the insignia on the Chateau de Cremat, a vineyard villa in South of France where Chanel stayed for a while on the other hand, it is also said that the double Cs of the logo is derived from quasi-Celtic interlocking stained glass window design at the Aubazine Chapel – known to have housed an orphanage where the designer had spent part of her youth.
Another story that runs for the brand's logo for the Parisian fashion house is that the logo represents Chanel's initials and her business partners' and love interest's initials.
Also interesting to read: Rise of smart textile and its impact on athlete performance
2. Versace

Gianni Versace, in the late 1970s, when deciding on the logo for his new couture line that would have shimmering new garments, settled on the firm and ultimate symbol of fatal attraction – the mythological Medusa. The takeaways from Medusa are the deadly gaze and monstrous appearance that was bestowed upon her as punishment for her original enchanting beauty that had angered the goddess Athena.
Donatella Versace described the bold choice of the logo by her brother 'When I asked Gianni why he chose Medusa's head, he told me he thought that whoever falls in love with Medusa can't flee from her.'
This strong logo and symbol soon became a famous work of art. They made their way into Vercase's personal realm – appearing on door knockers, around the Milan home, and throughout his palatial Miami villa.
3. Gucci

The double Gs of Gucci's logo is the initials of Guccio Gucci, who founded the brand in Florence in 1921. They are known to have been adopted into the brand by his eldest son Aldo. While the double G's were designed and created many years before, they only became an integral part of the brand's signature in the 1960s to 1970s under the creative direction of Aldo's son – Paolo Gucci. Paolo is known to have applied the logo to the brand's most sought-after bags and put them on clothing for the first time.
Thanks to the creative direction of Alessandro Mechele, the highly adaptive letter of the logo that sometimes appears facing right, sometimes inwards and many times with floral flourishes are a high attraction point today for the brand.
Also Read: India's luxury palace hotels: Rajasthan chapter
4. Louis Vuitton

Known to be first used in 1896 by George Vuitton, son of Louis Vuitton, to prevent counterfeiting of their famous new line of travel trunks, LV's interlocked letters as a logo and insignia are globally one of the most recognised logos known. It is also one of the earliest examples of fashion branding.
No other logo has been reworked and re-imagined as often as LV's logo – with such unique inspiration and creativity.  Over a century-old luxury fashion house, LV has created several imaginative expressions with its logo. From their graffiti version of the monogram in 2001 as a collaboration between designer Stephen Sprouse and Marc Jacobs to the floral-shaped heel of the creative director Nicolas Ghesquiere SS15 boots – the LVs logo has been on a creative journey and expression of its own and how!
5. Yves Saint Laurent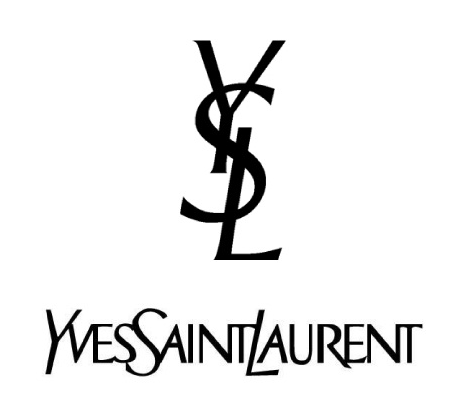 The design for the brand's logo goes all the way back to 1961. The YSL logo is known to be conceived by the graphic artist Cassandre. The vertical logo of Yves Saint Laurent – YSL came back in the 2000s thanks to their then-creative director Stefano Pilati. Stefano's design and ad campaigns put the vertical logo up front and centre. Not simply up front and centre – these ad campaigns had famous models standing next to the life-size logo.
In 2012, when Hedi Slimane took over, a new logo came to life. The new ready-to-wear line became Saint Laurent Paris in a simple Helvetica font. While the updated logo goes back to Yves Saint Laurent's Rive Gauche line from 1966, the vertical logo is used to differentiate the haute couture line.
Also read: Most successful celebrity ambassadors for luxury brands
6. Prada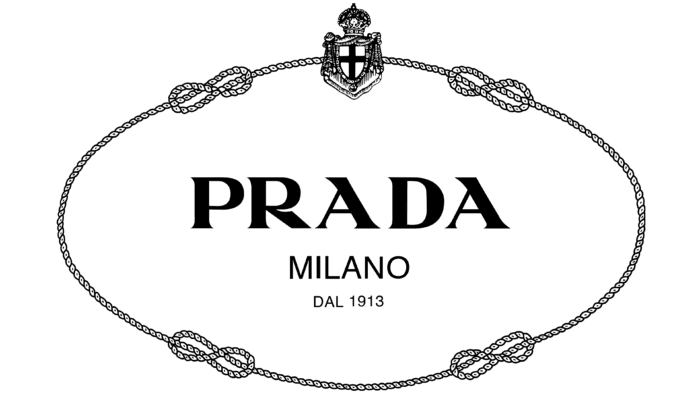 Prada is one brand that has had its association with royalty since the first few years of its inception. In 1919, approximately six years after its start- Prada was the official supplier of the royal family of Italy. This permitted the brand to use the traditional Savoy coat of arms and figure-of-eight knot – which became the brand's logo and remains the same to this day.
With Miuccia Prada – the youngest granddaughter of Mario Prada, taking over the reins in 1978 – she stirred things up and printed the Prada insignia on a signature triangular metal badge. She was inspired by her grandfather's trunks and introduced this new design in the mid-1980s on a black nylon bag – this made both the bag and the newly fashioned Prada logo famous and synonymous with the Prada brand.
7. Burberry

The Equestrian Knight logo for Burberry appeared in 1901 for the first time and was accompanied by the Latin word Prorsum, which means forward. It was then known to have been trademarked in 1909.
The word like Prorsum – meaning forward – seemed to have fitted a brand like Burberry rather well, given their patented weatherproof gabardine fabrics were famous for being first used by real-life adventurers, aviators, and military men.
Also read: How Emirates is shaping ultra-luxury experiences in air travel
8. Hermes
Hermes started as a brand by creating saddles, harnesses, and other related products for a time when horses were still the preferred mode of transport. It is another equestrian-themed logo, although, for Hermes, the logo is more closely linked with how the brand started with saddles and harnesses.
With transportation by horses becoming a thing of the past, Hermes decided to elaborate its equestrian connection to help itself identify with the elegant world of jockey clubs and high-end society life. A drawing titled Le Duc Attele by Alfred de Dreux, the famous logo of Hermes of the horse and carriage, was officially trademarked in 1945.
See yourself working in the luxury fashion sector?
Let's get your career kickstarted with a uniquely designed MBA in Luxury Management at MBA-ESG business school. From taking care of industry interactions, industry-led masterclasses and workshops to international exposure and a trip to the mecca of haute couture, Paris, MBA-ESG business school has it all planned for you. Get more information here on the application process.